Jeffrey Epstein has amassed a long list of high profile connections in his lifetime which has always been publicly known.
Some of those connections were until today, listed on his Wikipedia page.
FREE Trump 2020 Hat While Supplies Last –[Claim Yours]
According to The Federalist Papers, Epstein boasted literally hundreds of high profile Democratic and Republican party connections including former President Bill Clinton.
An astute Twitter user noticed that all of the sudden Wikpedia users were quietly editing Jeffrey Epstein's bio on the site to remove his connections to the Democratic Party.
Seems Wikipedia has altered Epstein's bio already. First screenshot of Epstein's bio was at 8:27 a.m. The 2nd was at 10:30 a.m. omitting Bill Clinton & Spacy yet leaving Trump! That is frightening. Same exact bio of Epstein, different times. https://t.co/T6lUHD8TrO pic.twitter.com/5QrjuovwHB

— Desiree Mills (Dez) (@Blondiedez) July 7, 2019
Here's a better look at the screen shots. The first one is from 8:27 am..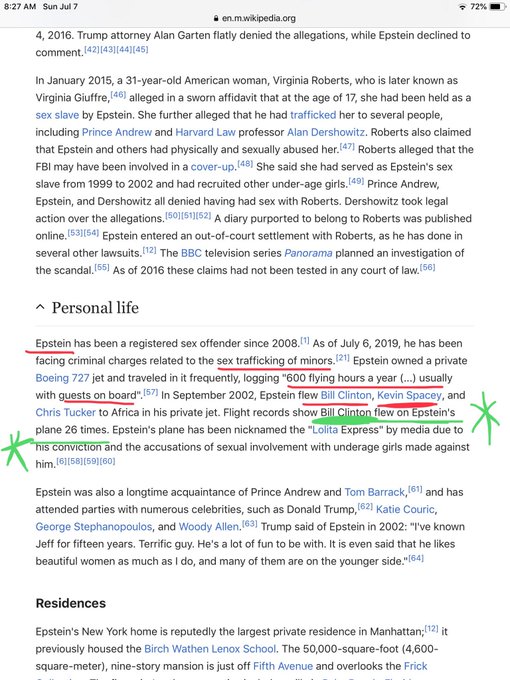 The second screen shot is from 10:30 am the same day, according to the report.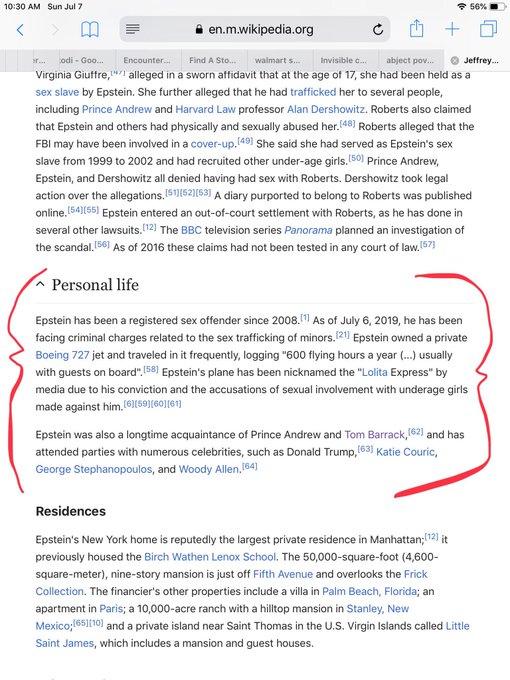 Clearly seen, is an attempt by Democratic Party operatives to bury negative history that may be unflattering to some of their heavy hitters.
This comes after Christine Pelosi, Daughter of Speaker of the House Nancy Pelosi, and a top official with the Democratic National Committee (DNC), sounded the alarm over the weekend arrest of Jeffrey Epstein on sex trafficking charges.
According to The Daily Mail, Pelosi speculated that "some of our faves" may be indicted in the wake of Epstein's arrest.
On Saturday night she tweeted "This Epstein case is horrific and the young women deserve justice. It is quite likely that some of our faves are implicated but we must follow the facts and let the chips fall where they may – whether on Republicans or Democrats."
According to Reuters, An indictment unsealed in federal court in Manhattan accused Epstein, 66, of arranging for girls to perform nude "massages" and other sex acts, and paying some girls to recruit others.
Epstein was charged with one count of sex trafficking and one count of sex trafficking conspiracy, for alleged misconduct from at least 2002 to 2005. He faces up to 45 years in prison if convicted.

Prosecutors will ask a judge that Epstein be detained pending trial because he is a "significant" flight risk, U.S. Attorney for the Southern District of New York, Geoffrey Berman, said at a press conference.
FREE Trump 2020 Hat While Supplies Last –[Claim Yours]
"The alleged behavior shocks the conscience, and while the charged conduct is from a number of years ago, it is still profoundly important to the many alleged victims, now young women," Berman said. They deserve their day in court."
[SUPPORT MIKE AND MY PILLOW] use code THANKS45 for up to 66 % OFF
[SUPPORT MIKE AND MY PILLOW] use code THANKS45 for up to 66 % OFF
AT THIS POINT YOU'VE PROBABLY HEARD ALL SORTS OF DIFFERENT THINGS ABOUT THE FREEDOM PHONE.
Use code MAGA to save $50 and fight big tech!
The Blue Checkmark Brigade have come out in full force 
just like we knew that they would
. After all, they can't stand the idea of not having an iron grip on all your information. They don't want Conservatives to have anything that prevents the big tech oligarchs from spying, censoring, and banning anything that isn't "
politically correct
" or is "
out of context
" as Facebook loves to say as an excuse for suppression.
Use code MAGA to save $50 and fight big tech!
One of the many perks about the phone is that it's hassle-free. No having to make a trip to go deal with your provider, you keep the same service you've always had. All you have to do is take the SIM card out of your old phone and pop it into SIM card slot in the Freedom Phone.  
It's really is that easy to get your privacy back.
 And the dual SIM card slots are so that you can add additional storage for things like photos, videos, or anything you want! It's a free country after all.
Use code MAGA to save $50 and fight big tech!
First, The Daily Beast wrote an article saying that the Freedom Phone is, "
just a budget Chinese phone
". 
This couldn't be further from the truth
. While it is an incredible deal, a mere $449.99 with code "
MAGA
" (compared to a $700-$1000 iPhone12) it IS NOT manufactured in China. Although the Daily Beast might have a "one-China policy" The Freedom Phone is actually 
manufactured in Hong Kong
. You'll remember Hong Kong from the HUGE protests where they waved 
American flags and fought hard against the authoritarian Chinese government who was trying to take control of their country
. Patriots recognize Patriots, and that's why Freedom Phone is PROUD to have their product manufactured in a country that is actually fighting with boots on the ground against one of the biggest enemies of the USA.